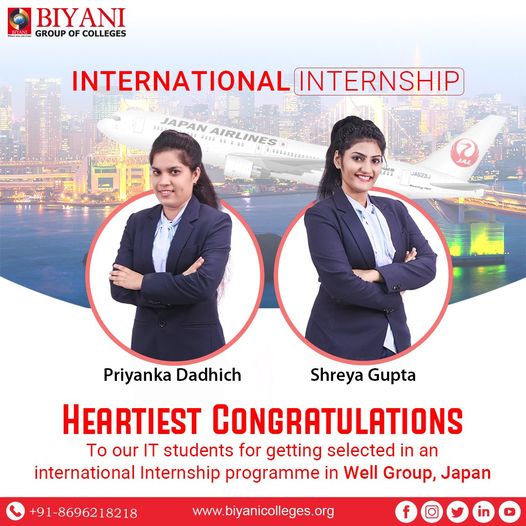 ---
---
 INTRODUCTION
Department of training, placement and career guidance cell is central sphere of Biyani group of colleges and serves as an intermediate between the corporate world and the Institute. Training programmes are organized throughout the year to prepare students face the recruitment process. Students are also guided how to improve their soft skills as well as technical skills to meet industry needs. T&P sell organizes training sessions on personality enhancement, interpersonal and communication skills, Career scheduling, Career mapping, group discussions and mock interviews.
It provides students guidance in the choice of the carrier by creating a congenial ecosystem where the industry meets the Academia. T&P cell Focuses on campus placements and creates an easy access for students in top multinationals giving ample opportunities for placements. It facilitates the selection process of the companies and tries to place the right person in the right job.
The main endeavour Of Biyani group of colleges is to enhance the skills of the students to be an entrepreneur and a job provider instead of becoming a job seeker. To facilities this students are provided with seminars workshops and E-Cell facilities on a continuous basis.
Reputed companies like HDFC Bank Ltd, ICICI Bank, TCS, Capgemini, Birla Sun Life Institute, Times Pro, IBM, Kotak Mahindra, Infosys, Amazon, cardekho.com and many other online marketing and IT companies Visit college for recruitments each year. Apart from bringing a varied list of recruiters to the campus, the training and placement cell also organizes seminars, workshops internship opportunities, International student exchange programmes and international placements.
OBJECTIVES
1. The aim is to ensure that students have the information and skills necessary for an effective job search.
2. Assists employers to achieve their hiring goals and ensure 100% Placement Assistance to our Students.
3. To conduct professional training programmes outside the curriculam to facilitate holistic development of the students, prompt placements and make our students industry ready.
4. Facilitate international Student exchange programs and international placements of our students with the help of our international collaborative partners.                                                                                                                                          5. Arrange preparatory programmes such as seminars, group discussions, mock written tests and interviews, employability tests, confidence building and personality development sessions, the general awareness courses etc with the help of experts in their respective fields to gauge students and handle stimulating facets in their prescribed work arena.
6. Provide career guidance on the basis of new and revised information regarding workplace trends.
7. Provide Internship programs to students who are keen on experiencing a slice of workplace life.
8. The Cell also assists the management of the college in generating awareness amongst students about the various opportunities present for them to explore.
9. Individual counseling and group sessions are organized to assist a smoother flow of activity.
10. Provide resources and activities to facilitate the career planning process.
11. Acts as a bridge between the industry and the student community through meaningful interaction which is intellectually stimulating and brings awareness to the faculty and the students about preparing them according to the changing demands of the industry.
12. Maintains an ongoing marketing and corporate networking programme to place Biyani students in corporate, government or start-ups and ensure a continuing pipeline of placement opportunities.
13. To create an ecosystem of start-ups and self reliance with the help of Biyani E-cell and our collaborative Incubation centre, Start-up Oasis, jaipur.
PLACEMENT AND TRAINING ACTIVITIES
At Biyani Group Of colleges, we feel extremely privileged to have been able to empower the Indian Economy by providing human resources since the year 2006.
The Placements, both for final jobs and Summer Internships is an integral part of the annual calendar of activities of the Placement Department of any College. Biyani Group Of colleges has a well laid-out and systematic process of dovetailing student's career aspirations with corporate's expectations. The Placement Department at Biyani Group Of colleges comprise of the Student Committee and the faculty members of each stream of courses offered.
The leading companies from all the sectors are invited on the campus, where the eligible students are facilitated to go through the entire selection process.
We leverage human asset for competitiveness by imparting knowledge, entrepreneurship and providing opportunities to enhance creativity. We truly believe that it is these strengths that would help our students to successfully compete globally and take advantage of the emerging opportunities.
We have a large data base of reputed companies which recruit our students both on and off campus and are associated with us since our inceptions. Our international recruiting partner, Wells Group from Japan facilitates our international recruitment process by placing our students in leadership positions in top companies of Japan.
TRAINING PROGRAMS
For the holistic development of our students we organize seminars, workshops, youth festival and symposiums each year. Most prominent among them are:
1. Oorja- Student Development Program
2. BICON, India-Japan Bilateral Conference
3. Rajjay- Youth Festival
We are running a number of training programs for our students to make them competent and well equipped for corporate endevours.
Personality Enhancement Program (PEP)
1. Essential Life Skills
• Concept of Self through Bhagwad Geeta
• Optimism and Motivational Concepts
• How to be compassionate towards others feelings
• Entrepreneurship development
• Career Goal, Objectives & Aims Mgmt.
• Converting dream into reality
2. Communication Skills
• Group Discussions
• Public Speaking
• Spoken English and Accent Training
• Common mistakes we make
3. Business Communication
• Report Writing
• Email Writing Skills
• Creating a Resume
• Presentation Skills
4. Time Management
• Assesing Time & Mgmt. of time
• Organizing time using a time log
• Time Management strategies & techniques
5. Grooming Session
• Dressing sense for various occasions
• Make up and accessory selection
• Nutrition
• Body Language
• Dramatic and Video Session at Biyani Studio
YOGA & Meditation
• Breathing Techniques / Pranayam
• Meditation Techniques
• Various Asanas
EQ & IQ Quiz
BOOK REVIEW
Industry Oriented Programme (IOP)
Knowing Business/ Economic Development
• Budget Talk
• Industrial Visits
• Success Stories of famous industrialists
• General awareness about the corporate world
Placement Skills
• Writing a Resume
• Mock Interview Sessions
• Group Discussions
• Seminars
• Multimedia presentation
• Understanding, work culture & Ethics
• Grievance Handling
Corporate Etiquettes and Mannerisms
• Telephone Etiquettes
• Email Etiquettes
• Formal Dressing
• Effective Body Language
• Presentation & Public speaking skills
IQ & EQ Quiz
Competitive Exam Program
We have collaborated with "Samyak", a preparatory institute to crack UPSC and RPSC examinations. We also prepare students for Company Secretary, Chartered Accountant and Bank PO exams according to the syllabi.
Microsoft Office Specialist, Tally courses and Language Lab are few of the programs.
International Student Exchange Program – Our College has strong academic and research collaborations with our Japan counterparts under which we organize various Student exchange programs each year.
Placement and Training Head : 
Dr. Smriti Tiwari
Email id – tpo@biyanicolleges.org