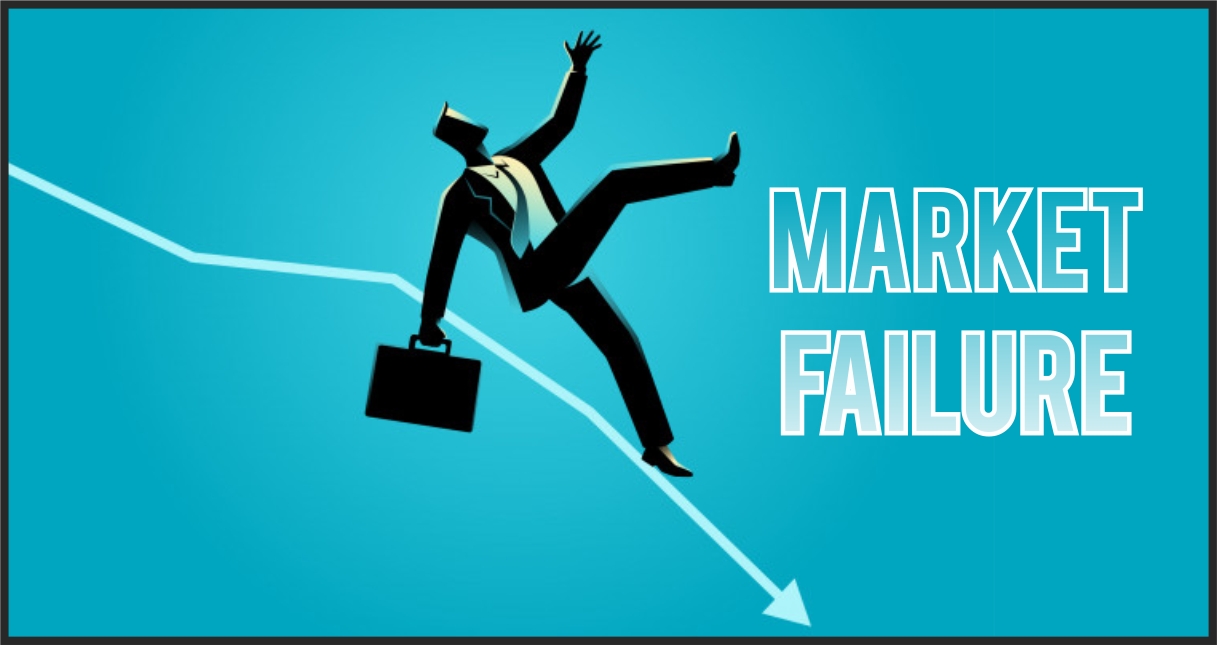 Market failure is the economic circumstance characterized by a wasteful distribution of goods
and enterprises in the free market. Moreover, individual incentives for rational behavior
don't prompt sane results for the rational outcomes for the group. In a different way, every
individual settles on the right choice for him/herself, however, those turn out to be the wrong
choices for the groups. In traditional microeconomics, appears as an unfaltering state
disequilibrium in which the quantity provided does not equivalent to the quantity requested.
Types of Market Failure
• Monopoly power
• Productive and allocative inefficiency
• Missing markets
• Incomplete markets
• De-merit goods
• Information failure
• Negative externalities – Consumers and producers may neglect to consider the impacts of
their activities on third-party
Failure to counter Jio led to telecom companies' troubles – Negative externalities
Mukesh Ambani announces Jio on 5th September 2016. It provides the free voice calls,
lowest call drops, and with average download speed at 18.6 Mbps. Within the launched of 2
years days, Jio reached 215 million subscription and third-largest telecom by revenue market
share Consumption of Data had gone up by 350 GB crore per month in India.
Before Jio was launched, India had nine private wireless providers including MTNL/BSNL.
But today, only three private players is there namely, Airtel, Vodafone and Jio.
Vodafone and idea merged to become the largest telco with nearly 430 million customers,
35% market share, and 41% revenue market share. Telenor India and Bharti Airtel merged to
have a customer base of 344 million and 34% market share.
According to Anil Ambani, owner of Reliance Communication, "High costs and aggressive
tariffs had created an "oligopolistic structure that was now rapidly moving toward a duopoly,
and could eventually become a monopoly."
According to All Unions and Associations of BSNL (AUAB) the whole game plane of
Reliance Jio is to wipe out its competitors, which includes the state owned BSNL.
Reliance Industries is the backbone of Jio which invested $32 Billion to enter in the Indian
Telecommunication market.
Jio has not only benefited to the consumers but also to the video streaming services like
Netflix, Hotstar, and Amazon Prime. With the cheap data availability to the one billion users
of India, these service providers gain the huge market with Revenue exceeding $1 million per
month. But after the launch of Jio, telecommunication companies made huge loses to retain
their exciting consumers. Airtel for example, slashed its prepaid tariffs by 80%. By March
2018, India's telecommunications companies had a cumulative debt of over $75 billion, but
only $27.6 billion in revenue had been recovered, a level that many telecom insiders worry
has troubling implications for the broader economy. Even government had a loss of Rs. 685
crore as a telecom Commission (TC).
According to Telecom Regulatory Authority of India (TRAI) policies, Telecom Company is
not allowed to provide more than 90 days promotional offers. But in case of Jio, they have
exceeded the time limit by providing free services of Data or calling. The interconnection
usage charge of 14 paise per minute was a floor price below which operators couldn't provide
voice calls. The charge is paid to networks that receive calls. Government or TRAI regularly
changes the norms to establish healthy competition among the telecom.
I feel that the government's response reaction has not disposed of or decreased market failure.
This has not improved any economic results. The TRAI reaction has not been helpful to the
telecom industry in India. Henceforth this is an example of a market failure in our nation.
Written by- Mohit Rawat (Assistant Professor)